地獄・Hell
A downloadable game for Windows and macOS
地獄・Hell was made for the "A Game By Its Cover 2017" jam in September 2017, based on a Famicart cover designed by TAGUCHI RYO.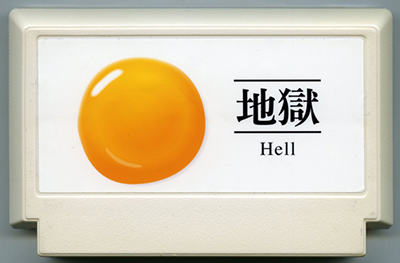 タイミングを見計らってタマゴを割ろう! タイミングを逸するとヒヨコになってしまうので、その時はタイミングを見計らって餌を与えよう! 成鶏になりタマゴを産んだら、再度、タイミングを見計らってタマゴを割ろう! タマゴを割り、うまく目玉焼きが出来たらタイミングを見計らって美味しく食べて下さい!うまく目玉焼きを作れなかった場合、地獄に落ちます。
—TAGUCHI RYO, http://famicase.com/16/softs/63.html
Time it right and crack the egg! If you miss, it'll turn into a chick, so time it right and give it food! When it grows up and lays an egg, time it right and crack the egg! Crack the egg, and if you fry it up, time it right and eat up! If you couldn't fry it up, you will be sent to hell.
—translation provided by Denji
地獄・Hell is a game about cooking, rebirth, and punishment. It was made using PicoLove, a reimplementation of the PICO-8 fantasy console in the Love2D engine.

CONTROLS:
Arrow keys
Other keys as contextually prompted
Escape key to pause
CREDITS:
Babylon Brooks - design, programming, art, sound
TAGUCHI RYO - cartridge art and original description
my pal Denji - telling me what the original description said
Iron Prince - firearms advisor
Download