地獄・Hell
A downloadable game for Windows and macOS
地獄・Hell was made for the "A Game By Its Cover 2017" jam in September 2017, based on a Famicart cover designed by TAGUCHI RYO.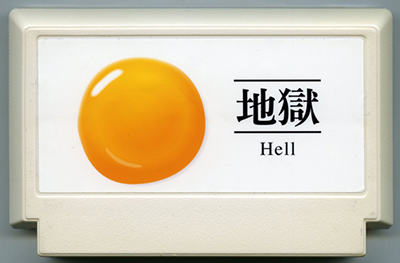 タイミングを見計らってタマゴを割ろう! タイミングを逸するとヒヨコになってしまうので、その時はタイミングを見計らって餌を与えよう! 成鶏になりタマゴを産んだら、再度、タイミングを見計らってタマゴを割ろう! タマゴを割り、うまく目玉焼きが出来たらタイミングを見計らって美味しく食べて下さい!うまく目玉焼きを作れなかった場合、地獄に落ちます。
—TAGUCHI RYO, http://famicase.com/16/softs/63.html
Time it right and crack the egg! If you miss, it'll turn into a chick, so time it right and give it food! When it grows up and lays an egg, time it right and crack the egg! Crack the egg, and if you fry it up, time it right and eat up! If you couldn't fry it up, you will be sent to hell.
—translation provided by Denji
地獄・Hell is a game about cooking, rebirth, and punishment. It was made using PicoLove, a reimplementation of the PICO-8 fantasy console in the Love2D engine.

CONTROLS:
Arrow keys
Other keys as contextually prompted
Escape key to pause
CREDITS:
Babylon Brooks - design, programming, art, sound
TAGUCHI RYO - cartridge art and original description
my pal Denji - telling me what the original description said
Iron Prince - firearms advisor
Download
Comments
Log in with your itch.io account to leave a comment.
I'm super happy that Joseph found this fantastic game in the A Game By Its Cover 2017 jam and wrote his article about it, because it's the most interesting one of it all in my eyes. I don't think that it feels odd just for the sake of oddity, but that it really has a kind of 'religious atmosphere'. The whole gameplay changes don't feel rash, but instead well planned, like it would represent something special. I don't say that I'd be able to interpret it correctly or that I did saw through it, but I see something in it that other games don't have. That's why I included it in our GOTY 2017 list. Congratulations for that! It's a wonderfully looking game with an own aura. <3 I hope others might see it with my eyes, that's why we also made a little gameplay video of it. Looking forward to your future projects!

Best wishes,
Sebastian
changed my prespective view of life
This changed and reset my life. My brain has become Egg... I'm going to call my grandma and buy at least 15 chickens because of this game. My grandma is dead.
That was absolutely amazing. Playing through it, it seems nonsensical, but at the end you see how it all fit together. (Sort of, I mean it's still nuts) I actually got the good ending. I think.

The graphics and animations are great; I also loved how there were enough hints to push you along through the game. I was also very amused by how each of the sins were implemented in the game. Great job!

This reminds me of Frog Fractions, we laughted so much while playing this and it also has so many layered messages. Congratulations on this awesome entry! :)
I dont know if anything lies beyond the layed egg but I love it very much.
there's quite a bit more, if you can make it back to where you came from...
Nice game you made people, I saw a bunch of deep thoughts and meaningful messages in the game, but I kinda lost them in the end :D It was a very funny and bizzarre experience, totally worth it though!
I made a video playing your game:
if you want to check, best of luck for your future projects, cheers!